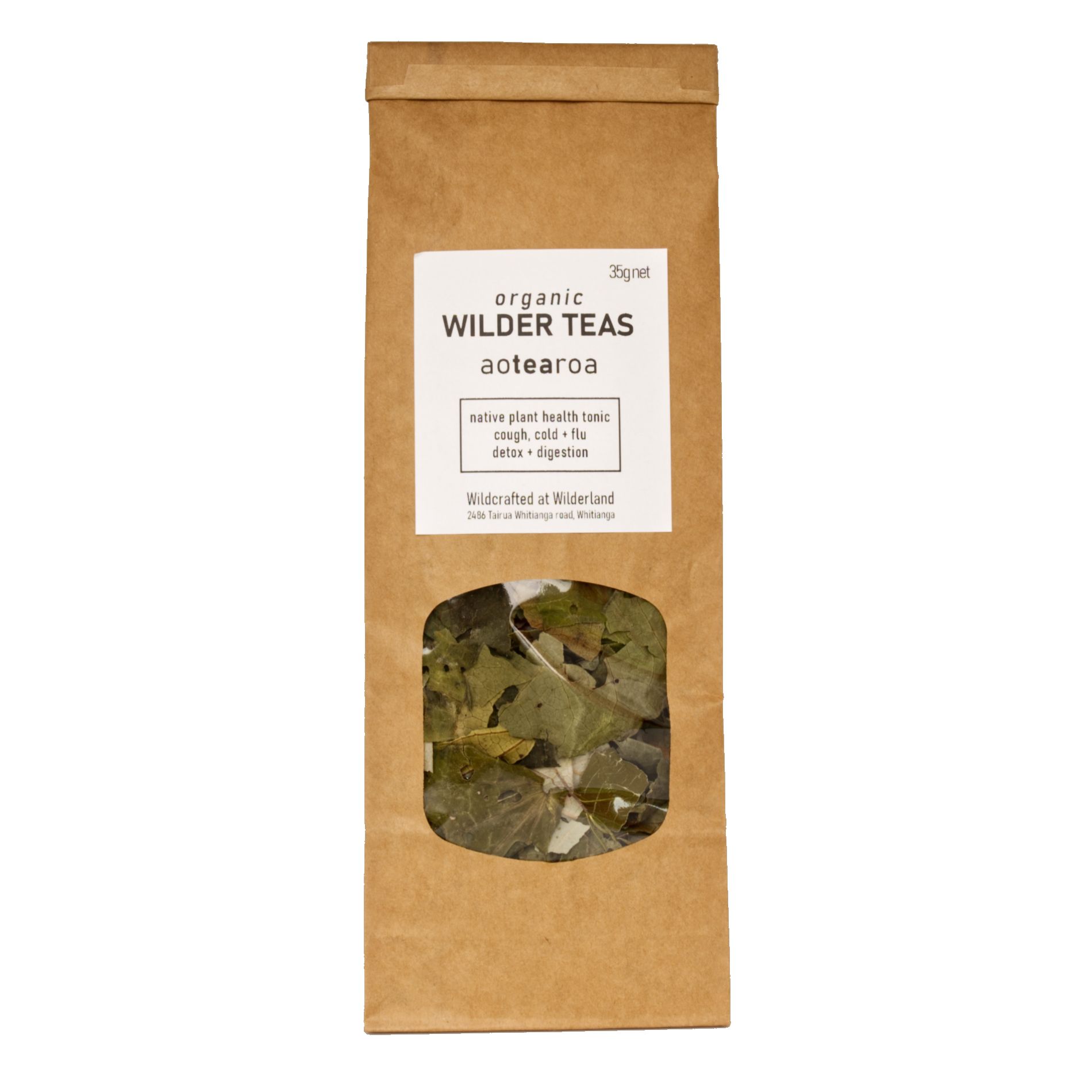 Aotearoa Blend
Wilderland
$20.00
NEW PACKAGING
We have just migrated to a new corn based air-tight packaging. This helps our teas last longer and keeps our packaging eco friendly. The package you receive is likely to be one of the newer batch, so please anticipate your item looking different to the current image.
This organic tea blend is wild crafted and hand picked from our site at Wilderland, Coromandel.
Cough, Cold, Detox, Digestion aid:
Medicinally rich herbs native to New Zealand. Used in Rongoā Māori (traditional Maori healing medicine). Especially formulated as a potent tasting infusion which acts to tone, cleanse and detoxify.
This blend can also act as an effective inhalant (½ cup in boiling water and breathe in steam) for symptoms of cold, blocked sinuses and headaches. Or prepared in the same way but left to cool, once warm can be used for bathing wounds.
Kawa Kawa
(Macropiper excelsum) commonly referred to as ''Pharmacy of the Forest'' / '' The plant of the heart'' due to its broad range of medicinal effects both externally and internally. But as an infusion or tea / wai rākau (herbal tonic) this plant works as an anti inflammatory agent which paired with its blood purifying and warming qualities helps to alleviate symptoms from the likes of cold and cough.
Kūmarahou
(Pomaderris kumeraho) is a sacred plant only found in the Northern part of the North Island of New Zealand. Primarily used for its potent respiratory support, digestive stimulating qualities and hayfever aid. (We also sell Kūmarahou by itself as we love it so much... check it out for further insight on the herb)
Mānuka
(Leptospermum scoparium) loves to support kidney and bladder function, which acts to eliminate toxins from the body. Healthy kidneys fulfill their role at filtering the blood of pathogens and toxins which then provide the body with clean blood which in turn gives the skin a radiant and clear complexion.

All snugly packaged in our Compostable and Biodegradable Eco Bags.
35g Net weight.
SKU: T-Aot