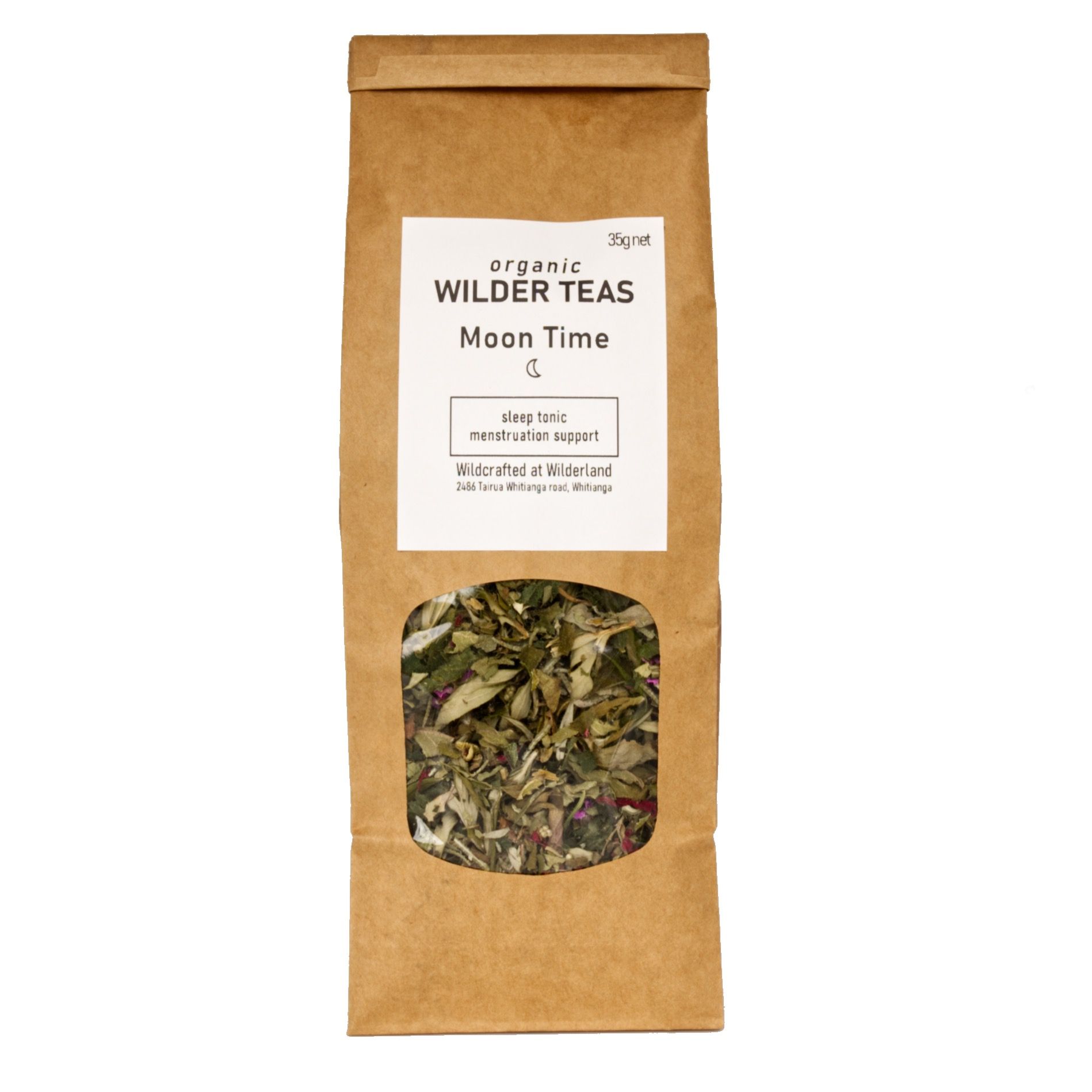 Moon Time Blend
Wilderland
$20.00
Sleep tonic. Menstruation support.
Composed of floral notes to soothe and nurture your body into a parasympathetic state, preparing body and mind for slumber. Moon time tea also works to ease menstruation cramps and tone the reproductive organs. Or for a 10 minute zen moment to regain some calmness 😌
NEW PACKAGING
We have just migrated to a new corn based air-tight packaging. This helps our teas last longer and keeps our packaging eco friendly. The package you receive is likely to be one of the newer batch, so please anticipate your item looking different to the current image.

Mugwort (Artemisia vulgaris)
Also dubbed 'The Plant of the Moon' entices a restful sleep helping to soothe symptoms of insomnia and anxiety. Mugwort is classified as an 'emmenagogue herb' which works to stimulate blood flow to the pelvic area and uterus, and has been known to stimulate menstrual flow. An ancient herb enriched with antioxidants that work to neutralize free radicals from pollution and that cause inflammation and weaken the body's defenses.
Lavender (Lavandula angustifolia)
Does it need an explanation? Lavender is renowned for inducing calmness, reducing headache pain. Lovely lavandula detoxifies your sacred insides working as a subtle laxative and diuretic. Paired with its notable amount of antioxidants and antibacterials which elevates immunity and nurtures mood slumps.
Pineapple Sage (Salvia elegans)
The genus name 'Salvia' is derived from 'salvere', which is Latin for 'to save'. Originally found in Mexico and traditionally used for its support for anxiety and to treat high blood pressure. This bright pineapple tasting herb supplements your mental wellbeing whilst nourishing your nervous system.
All snugly packaged in our Compostable and Biodegradable Eco Bags.
All information provided on this website is for informational purposes only. Please seek professional advice before commencing any treatment.
SKU: T-Mon